The 4 BEs of Transformational Leadership
06 November, 2020
By Klaus Schlagheck, SCHLAGHECK+RADTKE (Germany)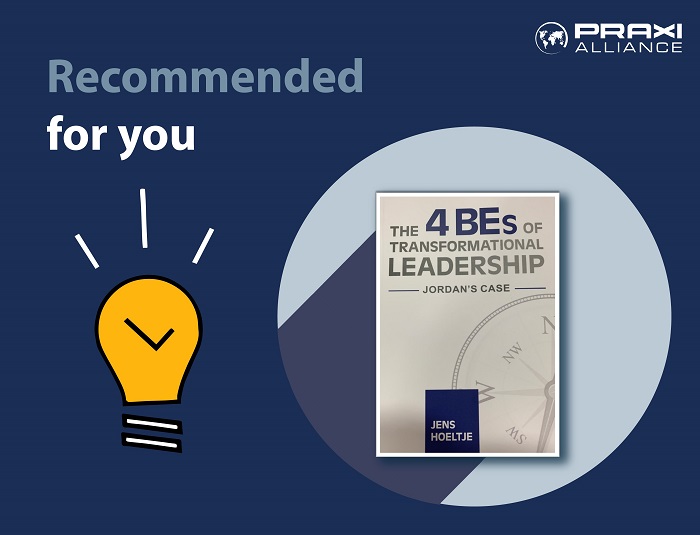 The ability to adapt to changing conditions such as technologies or market circumstances has always been essential for long-term business success. In particular, the breathtakingly rapid pace of digitalization has made the terms "disruptive change" and "transformation" winged words in many economic sectors. The technological or organizational adaptation measures tend to get most of our attention even though, we know well that good concepts by no means guarantee successful and sustainable transformations.
Change processes are usually highly complex, demanding and very challenging for everyone involved. Successful implementation undoubtedly requires ultra-precision planning, a willingness to make sacrifices and, above all, a lot of energy. What surprises is that the question about which management qualities determine the success or failure of a transformation process are often neglected in comparison to the technical and organizational questions.
For our clients, who are mostly medium-sized companies, change management has also become an important topic. Our search mandates increasingly reflect this. Experience and proven success in the management of change processes are now common requirements for candidates for various management functions. The question is which personality traits and behaviors are actually associated with such successes?
In "The 4 BEs of Transformational Leadership – Jordan's case", Jens Hoeltje provides an interesting and read worthy contribution to this topic.
Through two protagonists, Jordan and Nick, Hoeltje offers us insight into the highly successful transformation project of a very traditional industrial group with several thousand employees. He makes no secret of his admiration for Jordan and his outstanding personality and leadership qualities. The author attributes the extraordinary economic success of the transformation project, which took several years to complete, largely to Jordan's ability to literally swear in all of the executives who played a key role in the project from the start and to "take them along" in every phase of the more or less rocky road to success.
What is it about Jordan that makes him such a fascinating leader?
For Nick, the four BEs of Transformational Leadership are what distinguish Jordan, and are largely responsible for his success in managing this mammoth project:
Be Ambitious – Jordan aspires to greatness and is not afraid to confront his employees with very ambitious project goals.
Be Disciplined – He is extremely disciplined and demands at least as much of himself as he demands of his employees.
Be Prepared – He prepares for possible setbacks in the best possible way and reacts to them quickly, decisively and systematically.
Be Successful – For Jordan, successes and achieved goals are no reason to rest, but only stages on the road to further success.
As trivial as these 4 BEs may seem at first glance, Nick's conclusions are understandable and coherent. He illustrates his observations in an authentic and practical fashion over the course of his obviously very fruitful collaboration with Jordan on this transformation project. The author summarizes the resulting learnings at the end of each chapter in key points and gives the reader precise recommendations for action items.
Unfortunately, the book glosses over one aspect. As consistently as Jordan led the described transformation process to success, everyone should be aware of the fact that such an uncompromising approach is also likely to cause considerable psychological and physical stress to all parties involved. What price did individual participants have to pay for their total commitment? What impact did the gigantic workload have on the private lives of the individuals involved?
The 4 BEs of Transformational Leadership is a great and amusing mix of a detailed description of a truly disruptive transformation process, the subjective perception of a participant and an approach to optimal leadership behavior during such a process.
In just 130 pages, the author provides interesting insights and suggestions for everyone who might be involved in change processes in the future – whether it be an actively shaping or (supposedly) passive role.  Nick's perspective invites us to reflect on our own behavior in change processes. I definitely enjoyed reading it.
The book is available on Amazon (USA: $15.95; Germany: €14.20)