2019 Spring Summit held in Vienna
17 May, 2019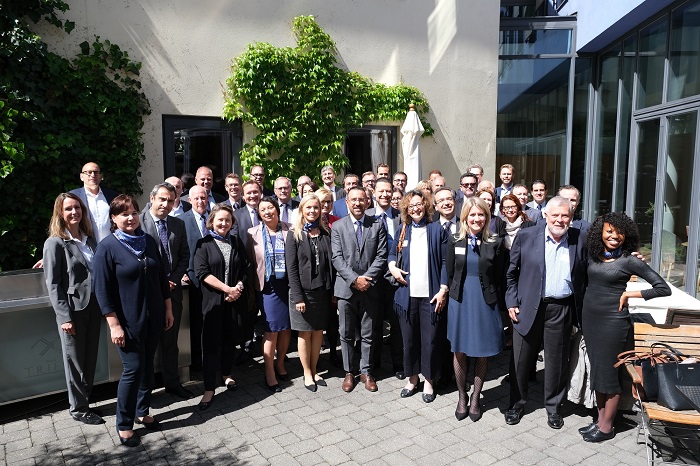 Members representing 21 countries gathered in Vienna on May 8-12, for the PRAXI Alliance 2019 Spring Summit. The theme of our summit was "Joining Forces", in our quest towards a more unified and collaborative approach to our clients and our local and international communities.  
Pre-summit, the PRAXI Alliance Steering Committee, including Tom Connolly of GattiHR (USA), Vito Crosetto of Praxi (Italy),  Guy Vereeckle of Ahead (Belgium),  Fabio Sola of Praxi (Italy), Holger Buchholz of Schlagheck + Radtke Executive Consultants (Germany), Sonia Singh of S&S Associates (India) and Laurent Landie of Lim and Partner Executive Search (Thailand), presented the 2019 Global Leadership Trends report to members of the press. Notably, we learned that globally we are all grappling with similar challenges with many stemming from very basic issues like communications, soft skills and employee engagement and retention, which are being further complicated by the rapid pace of innovation. 
On Friday, Members welcomed newcomers Yigit Oguz Duman, founder of Duman Management Consultancy (Turkey), Rune Repstad from Academic Search International (Norway) and Robbert Bolsenbroek from Hasselhof Group (The Netherlands).  
Martin Mayer from Iventa (Austria) moderated our panel "How to Navigate Business Through Economic and Political Instability" featuring insight from panellists Silvia Buchinger, (Project Manager at Booking.com), Doris Tomanek, (Board of Human Capital at Unicredit Bank Austria), Wilhelm Sterl (Head of HR at Immofinanz), and Werner Stix (Managing Director at Frischeis), and Manfred Mahrle (CFO at B. Braun).
Other summit highlights included:
A very special visit to the OSCE Secretariat and presentation by Ambassador Paul Bekkers, where members learned how this critical organization works behind the scenes to defuse political and military conflicts
Member insight on Central and Eastern Europe opportunities
Our first awards ceremony for outstanding member achievements
Sharing of Executive Search best practices and team building activities
"During our summits, members really build the relationships and insight necessary to service our clients internationally" said Fabio Sola, Director, "Vienna, with its charm and hospitality, really inspired many great ideas and new friendships."
Our 2019 Autumn Summit will take place in October, in Rome, Italy.