2017 Autumn Summit held in Bangkok
02 November, 2017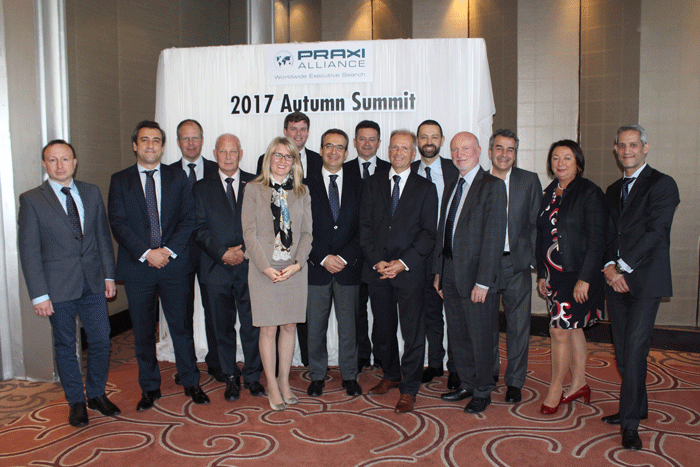 Members representing 27 countries gathered in Bangkok, Thailand, on October 20-21, for the PRAXI Alliance 2017 Autumn Summit.
The summit kicked off with an introduction to Thailand and the ASEAN by Rolf-Dieter Daniel of the European Association of Business & Commerce. HR Directors Stefano Innocenti (Ducati), Christophe Lejeune (Accor Group) and Christophe Brun (Essilor Group) provided insight into the recruitment trends and challenges in the region.
David Braham introduced Six Degrees Executive (Australia), our newest member firm, and Members also met Tom Conroy from GattiHR (US) and José Manuel Fuentes from Development Systems (Spain and Latin America).
It is impossible to ignore the impact of new regulations and the rapidly evolving move towards digitization, AI and other competitive forces. Jacqui Hancock and Gemma Van Rooyen from Invenias brought the group up to speed on GDPR, and members also contributed their expertise and worked together to better understand the future of executive recruitment.
To close the summit, Arnauld de Nadaillac (ANC Consulting) and Oranuch Pruetipibultham (NIDA) gave an engaging and interactive presentation about cultural diversity, with a particular focus on Asia-Pacific.
"This summit was action-packed and we believe that members came away better prepared to serve our clients and our profession", said Fabio Sola, Director, "ASEAN has outstanding growth prospects, and our members now have a better of understanding of how to be effective here".
Our 2018 Spring Summit will take place on May 11-12, in Zurich, Switzerland.